---
---
---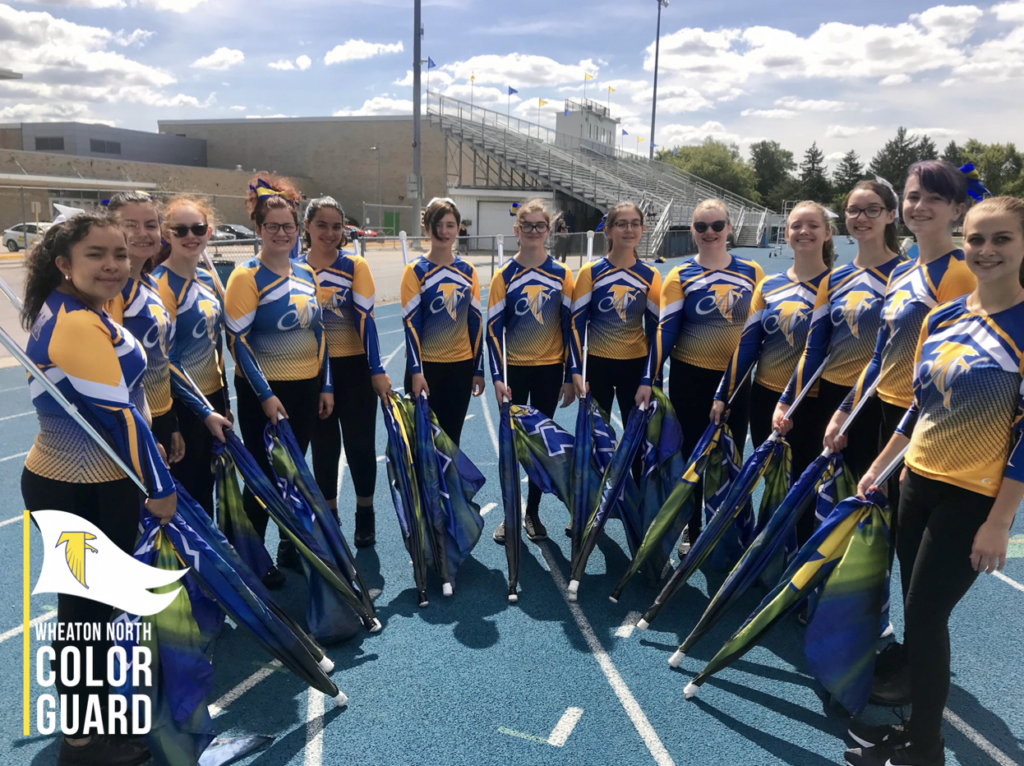 ---
Download the Color Guard Information Flyer
here
!
---
---
Color Guard performs with the Falcon Marching Band at parades, home football games and competitions.
Guard practices are one night a week for June and July, plus a mandatory week-long Band Camp in August.
Expect two or three evening practices and one after school practice during the fall season.
No experience is needed to join Color Guard.
---
---
The Winter Guard performs a Guard-only show in a gym to a recorded piece of music.
The Winter Guard competes in the Midwest Color Guard Circuit.
The season starts in November and ends in late March.
The winter season is very performance-based, with members being very close to the audience and judges.
---
---
You will make wonderful friends.
You get to perform.
The best reason of all...It is fun!
Click here for 2021 Marching Band Registration
---
What is Fall Color Guard?
---
The Wheaton North Color Guard specializes in the visual interpretation of music through the movement of the body and equipment - flags, rifles and sabres. The Color Guard performs with the Falcon Marching Band at parades, home football games and marching band competitions. The Fall Color Guard season runs June through October.
---
---
You can! Color Guard is open to all males and females in every grade level. No experience is necessary. All you need is a desire to work hard, be your best and have a great time.
---
What is the Fall Color Guard Practice Schedule?
---
The Color Guard practices one night a week usually from 6-9PM starting in June and ending with the start of Band Camp. During that time, we work on the skills needed for the competition season. Once school starts, the Color Guard practices two nights a week with the full marching band, usually from 6-9PM. And, there is a section practice after school, usually on Wednesdays.
---
---
It is a mandatory week-long camp for the entire Wheaton North Marching Band. Band Camp is traditionally 8AM until 9PM with breaks for meals. During camp, the band learns the competitive show and participates in teamwork activities. Band Camp 2021 is August 2 to August 6. Attendance is mandatory for all Color Guard members.
---
---
After the Fall Color Guard season ends, we turn our sights to the next season. For the Winter Guard, we develop a Guard-only show. The Winter Guard performs to pre-recorded music on a gym floor and competes with other high school guards in the Midwest Color Guard Circuit. Practices are held twice a week with 4-5 competitions which are held on weekends. The season runs November through March.
---
Do I have to join both Color Guard and Winter Guard?
---
While we encourage you to join both to enjoy the full Guard experience, how you participate is up to you. Winter Guard registration takes place in November.
---
Are there participation fees?
---
Yes. The Fall Color Guard pays the marching band fee. The Winter Guard also has a fee to help pay for uniforms and other expenses. There are opportunities to fundraise and all members are encouraged to participate.
---
How can the parents get involved?
---
There are several ways parents can be involved with the Color Guard program.
Help your student get to practices on time!
Join the Falcon Band Parent Organization and find out ways to volunteer.
Be a SuperFan! Come to our competitions and cheer us on!
---