When & Where?
Saturday, August 21 from 8:00-11:00am
One Band. One Goal. Drum Equipment! Come watch us parade through North Side neighborhoods!
The Wheaton North Falcon Marching Band will be parading through the North Side of Wheaton, playing music and drumming up support for the purchase of new drumline equipment including drums, harnesses, cases, and stands.
Donate to help our 90+ marchers!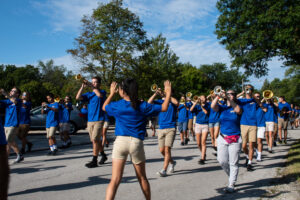 Drum roll, please! We need your help keeping our our hard-working Falcon musicians looking and sounding great. Students pledge to march and entertain the community for the 3 mile parade route. We are asking you to pledge financial support for their efforts.
How Can I Help?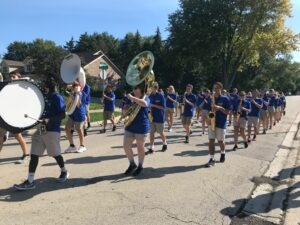 1) Cheer loudly when you see us on August 21st!
2) Go to RallyUp to donate online.
3) Mail a donation to: Wheaton North Falcon Parent Band Organization, PO Box 441, Wheaton, IL 60187
What else should I know?
Listen for the music so we don't miss you!
In the event of hazardous weather, the March-a-Thon will be cancelled. We will continue the fundraiser!
Pledges will be accepted until Saturday, August 21st at 11:59PM.
Donations will be accepted until Saturday, August 28th.
Thank you for your support!!